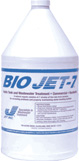 A New Powerful Wastewater Treatment Weapon
New & Improved BIO JET-7 breaks down and digests grease, fats, soap, scum and other colloidals and dissolves organic materials in both anaerobic and aerobic wastewater treatment systems. In addition to dramatic improvements in oxidizing organic compounds, it promises major cost savings to users.
More amazing benefits:
30% higher count and more robust formulation
Significantly enhanced stability (2 years)
EcoLogoM certified for safety and efficacy
Use 12 months of the year & can be shipped in the winter
DSL compliant (Canada)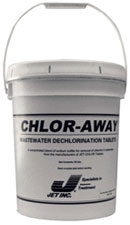 Laboratory-tested and proven, the CHLOR-AWAY® Dechlorination System uses a compact, lightweight Jet Tablet Feeder and long-lasting sodium-sulfite tablets to remove chlorine in proportion to the flow of treated wastewater. It is the most practical chlorine removal system available today. Use your CHLOR-AWAY® System to dechlorinate wastewater, cooling tower blow down, boiler water and process water when chlorine or oxidizers are undesirable. In addition to unsurpassed efficiency and effectiveness, the Jet CHLOR-AWAY® System provides all these benefits:
The Strongest Sodium Sulfite Blend Available – Jet's specially formulated tablets provide the strongest blend of sodium sulfite available in tablet form.
The Longest Lasting Tablets Available – Efficient, slow dissolving chlorine removal tablets help meet National Pollution Disposal Elimination System (NPDES) permit requirements.
CHLOR-AWAY® Tablets Fit Other Feeders – Jet's 2 5/8" diameter tablets are designed for Jet Tablet Feeders, but can also be used in other tablet feeders.
Safe – There are no dangerous gases, liquids or powders to handle or store.
Every CHLOR-AWAY® System is Backed by over 50 Years of Wastewater Treatment Experience – We've invested all of this knowledge into the innovation, development, performance testing and manufacturing of the best dechlorination system available today – CHLOR-AWAY®.
Jet's specially formulated CHLOR-AWAY® Tablets provide unsurpassed dechlorination convenience, efficiency and dependability.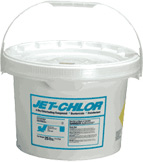 JET-CHLOR Tablets provide fast, complete bacteria killing power and inhibit bacteria regrowth at the same time. Their convenience, efficiency and dependability is unsurpassed.