The Heart of the Jet Residential Plant System
The flood resistant Jet 700++ supplies the oxygen and the mixing that supports our exclusive treatment process, converting the wastewater into colorless, odorless liquids and gasses. The aerator works in tandem with the BAT® Media to provide complete biological processing.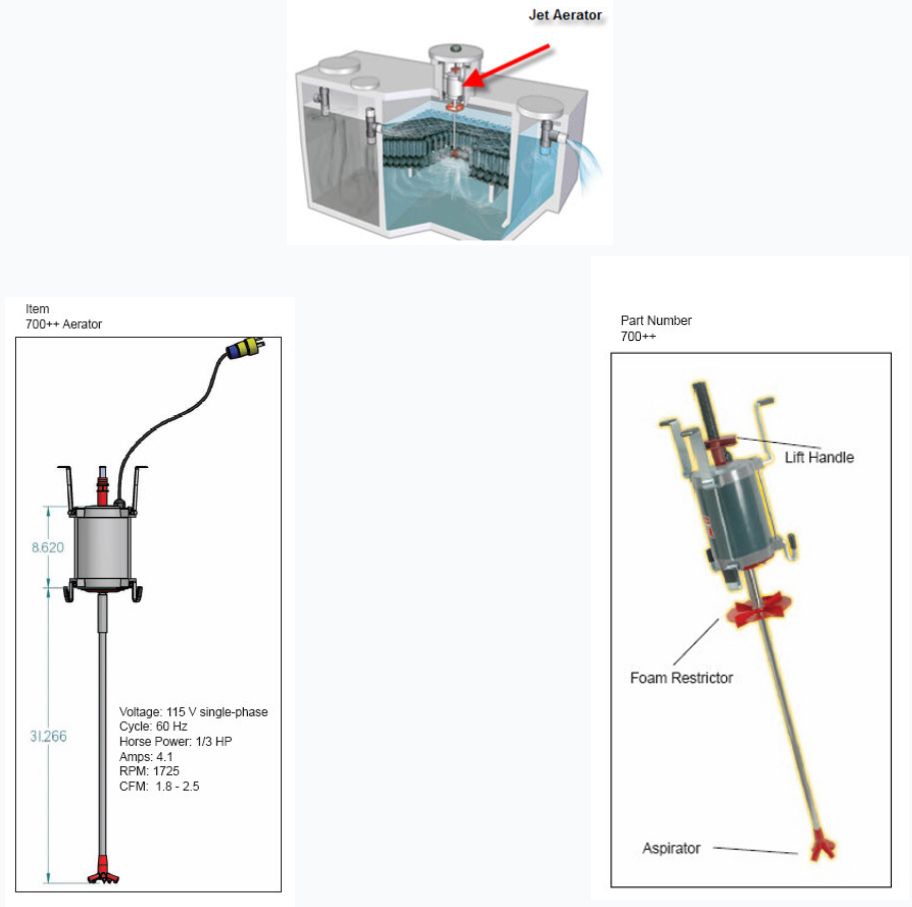 Don't be fooled by false claims from aftermarket aerator companies!!!
When choosing to replace a component that's critical to the health and well being of your family, as well as your property values, why choose to take the risk with a company that does not have the experience, quality and commitment of Jet Inc.? Only Jet has a product certified by National Sanitation Foundation (NSF) to work effectively in the Jet's aerated systems which provides a clean discharge that meets state and local regulations. Only the original Jet aerator provides full access to our complete product support network. This includes our in-house customer service, technical support staff, and factory trained service technicians. You don't get that kind of support from any of the aftermarket companies. A cheap after-market aerator may reduce your purchase price, but it does not save you money when you have to replace it every 1-2 years. Jet aerators have demonstrated outstanding performance by operating in the field for 5, 10, 15, and even as long as 40 years!
Only Jet has been designing, selling and supporting aerators since 1955. This experience allows us to provide reliable performance in this hostile environment inside of a treatment tank. If you want to compare features, check out the table below.
| Aerator Features | Original Jet Aerator | Typical Off-Brand Aerator | Advantage |
| --- | --- | --- | --- |
| NSF Approved | Yes | No | Only Jet Aerators are Certified by a third party (NSF) to meet State national standards in Jet Systems |
| Horse Power | 1/3hp | 1/6hp | More hp means longer life |
| Dual Stack Heavy Duty Bearings with Dual Seals | Yes | No | Larger bearings equates to less wear on critical components and longer life. Dual seals have significantly less chance of bearing failure through contamination in this hostile environment inside a treatment tank. |
| Warranty | 30 months | 12 months | A guarantee from the company that invented residential aeration and has been in this business for over 50 years! |
| Pro-Rated Exchange Pricing | Yes/ Lifetime | No | Never pay full price again. All Jet aerators can be exchanged at the factory for a discounted price and new warranty if the original warranty has expired |
| Local Distributor Support Network | Yes | No | Support from a Jet certified technician is only a phone call away |
| Fresh Air Vent Hose | Yes | No | Fresh air equates to more oxygen and better performance. Microbes are over 10x more active with oxygen |
| Internal Thermal Overload Protection | Yes | No | Protects your motor from overheating during heavy loading on the system. |
To highlight the benefits of buying an authentic Jet Aerator: Only Jet offers a lifetime aerator exchange program. If your Jet aerator should ever fail, you can exchange it at a discounted price and get a new warranty if the original warranty has expired.
NSF certification on your Jet System will be void if you install a cheap knock-off aerator. Surely you won't hear that from the companies trying to sell you their inferior products. When your system is inspected by a local health official, you will likely be forced to replace the aftermarket aerator.
Only Jet aerators provide an exact amount of mixing and air to our patented BAT™ media plant, producing a clear odorless discharge.
Whether you call it a Jet septic pump, Jet air pump, Jet arator, Jet aereator, Jet septic air pump or an aerator, Jet's aerator is Simply Better™, it's guaranteed. Jet's aerators carry our 30 month warranty and our Lifetime Exchange Policy. Jet provides trained local service representatives that are only a phone call away.
Don't take a chance on inferior aerators; keep your system in compliance with regulatory standards and operating in its legally mandated configuration with the original high quality Jet Aerator from Jet Inc. Note: To avoid damaging your system always contact a Jet Certified Distributor before scheduling tank pumping or maintenance