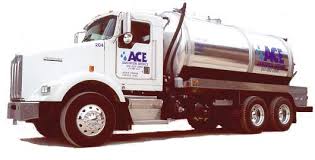 Fats, grease and oil from local food service and preparation facilities is a major problem for our local sewer system. The Division of Sanitary Sewers devotes many equipment and man hours to unstopping and cleaning manholes, pump stations and sewers lines clogged with grease.
Grease Trap Pumping:
Our professionally trained field service personnel use vacuum hoses to pump and clean inside and outside grease traps. Our high pressure water jetter or cabling equipment is available to help clean traps and sanitary lines that have been neglected or not maintained properly.
Grease Trap Maintenance
Grease Traps are a part of the kitchen system that captures fat, oil and grease (FOG) from the wastewater flow. The FOG is stored in the trap, actually a tank, ranging from 10 gallons to 1,000 gallons or more depending on local plumbing code requirements. Small inside traps are usually located in the kitchen floor preparation areas or near dishwashers. This type of grease trap requires frequent maintenance and is typically ineffective. Larger outside grease traps are usually located a few feet from the building exterior in parking, driveway or delivery areas. While outside grease traps are more effective, they also require periodic maintenance.
The grease trap works by slowing down the FOG and allowing it to cool. As the hot water cools, the FOG separates and floats to the top of the grease trap. The cooler water continues to flow down the pipe to the sewer. The FOG is actually trapped by "baffles", there are several designs, preventing grease flowing out of the trap and into the municipal sewer system.
Ace Sanitation's expert service personnel thoroughly clean and inspect your grease trap with each visit. Grease traps need to be serviced regularly to significantly reduce the suspended solids that can flow into the sewer. If these solids build up beyond the allowed specifications, there
may be a surcharge from your local sewer district. For optimal results, a grease trap should be cleaned a minimum of every 90 days. This will have multiple benefits, including minimizing odors that can come from the trap, preventing it from overflowing into your business or parking lot, and guaranteeing its effectiveness. Ace can design a Customized Maintenance Program that fits your
needs and as well as your budget.
COVID – 19
While focusing on the safety and well-being of our employees and valued customers, we are fully operational and happy to help when you need us. We are carefully monitoring the situation and follow the guidance of the CDC. We have increased the frequency of sanitizing our offices and vehicles. All employees and technicians are limiting close contact with customers and other team members, and are encouraged to stay home if they are not feeling well. We are confident that the steps we are taking will help us to operate as normally as possible while also keeping everyone's safety as our number one priority. We know many people are working from home and self-quarantining, which can put additional stress on your septic system. You should not flush anything except toilet paper. We know toilet paper is in short supply. There is never a perfect solution if you run out, but never flush wet wipes, paper towels, or even facial tissue. They can cause a back-up and end up costing a lot of money. Also limit the amount of cleaning products that you put down the drain. Antibacterial products are hard on your septic system. We encourage disinfecting everything right now, but consider different ways of disposing the liquid, including bleach. Stay safe and know that we are here to take care of your families and our community!